Enjoys the wind art, catch the mesmerizing visual in the sun & breeze, start from a 3D metal hanging weird wind spinner, when you are in the garden with your family or friends, a kinetic wind sculpture spinning with the breeze, what a peaceful moment!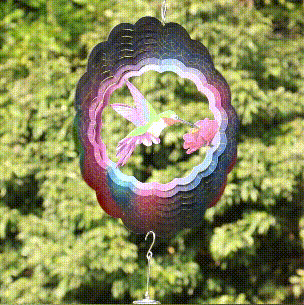 This fantastic weather-resistance rotating wind spinner for outside provides a mesmerizing 3D display of movement with vivid color. The stainless composition and brushwork maintain its good looks season after season. So our wind sculptures & spinners are the best choices for your gallery, lawn, or garden.
Our big shiny wind sculptures & spinners feature an ingenious metallic construction to absorb much wind force, together with an easy-revolving hook to deliver smooth movement even a weak wind blows. 
Specifications:

Product Name: Heart  Wind Spinner Decoration
Product Dimensions: 12.4 x 12.4 x 0.01 inches
Material: Stainless Steel

Weight:380g

Package: Gift Box Packaging
Package Included:


1 x Wind Sculptures & Spinners
1 x Swivel Hanging Hook
1 x Instructions
Countdown sale
🔥Items as low as $4.95! In order to give feedback to new and old users, our specially launches limited-time promotional products.